Here we go a new line from SKYTEX and gone is the SKYPAD Single Core line for the new IMAGINE Dual Core. But will this be enough to satifisty Android Tablet buyers. Who really want the latest Nexus 7 Quad Core or Amazon Kindle Fire HD. Of course buying a Quad Core for $199 to $249 on 7" and might be enough for most buyers. But lets take a closer look of what SKYTEX has install for us.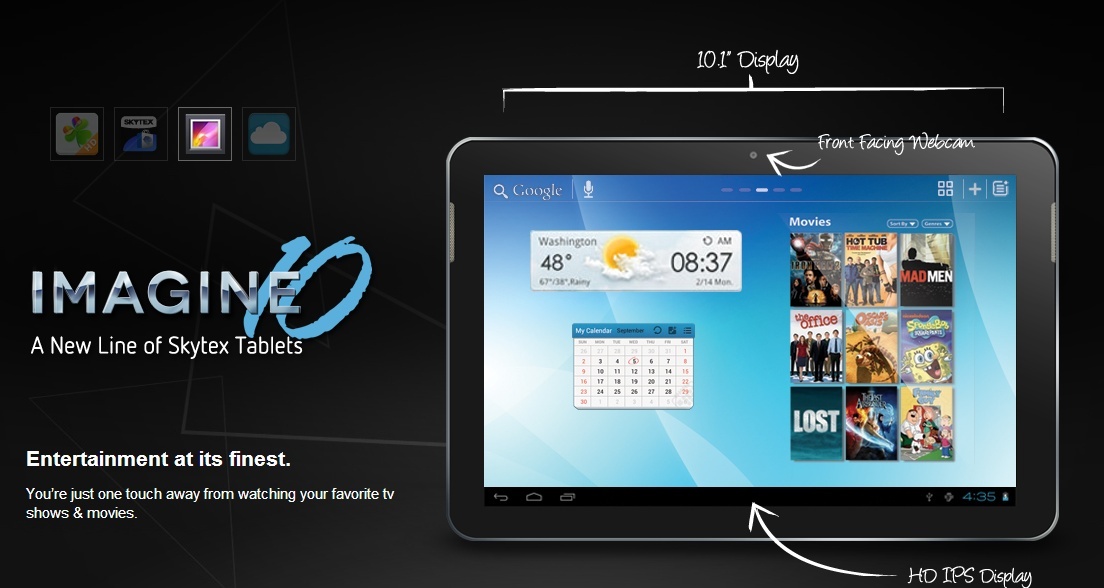 Imagine 10
Above is the 10.1" shows off IPS
-Dual 2mp camera,
-Dual Core 1.6GHz with Dual Core GPU
-1280 x 800 1080p HD.
-Bluetooth (PAN) Personal Area Network
-802.11 (b,g,n) WiFi
-Mini-USB
-HDMI
-Front Stereo Speakers
-16GB IS (Internal Storage)
-32GB ES (External Storage MicroSD HC)
-Andorid 4.0 ICS but Android 4.1 Jelly Bean (Upgradable)
-Go Launcher UI
You also get free 5GB Cloud Storage.
Imagine 9
There is also 9.7" so that would go up against iPad 3 same features above.
Imagine 7
Same configuration as with the 10.1-inch, 9.7-inch and 7-inch as for pricing Shows MSRP $299 for 10.1-inch and 9.7-inch so some confusion with pricing.
Ships out with Android 4.0 only but updates to Jelly Bean. It should come with Jelly Bean already if you ask tme.
Vendor anouncement
"SKYTEX has delivered on its promise to bring forth exciting technologies, content and services to consumers who have high expectations regardless of price," said Sal Fiore, VP of Sales & Marketing at Skytex. "We worked diligently to bring significant value to our customers and this is the culmination of those efforts".
Source: SKYTEX
Review by tipstir