Oh really? I say..
Google recently published its October operating system distribution numbers straight from its OS dashboard, and we can see that 52.1% of Android owners have moved up to Jelly Bean, with 26.3% still on Gingerbread and nearly 20% on Ice Cream Sandwich.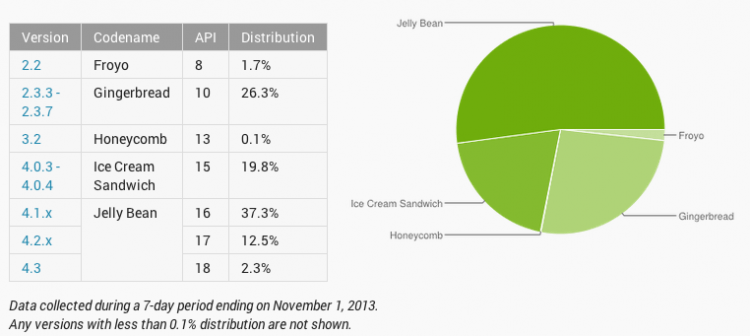 Diving in deeper, we can see that most of the Jelly Bean users are still on the older version 4.1 at 37.3%, with 14.8% having moved up to 4.2 or higher.
They're going by what tablet owners have on their tablet when they use Play Store. But Play Store is not 100% accurate. They don't take into consideration, 1 Mobile Market, Amazon App Store. They are the other. There are still plenty of Gingerbread Tablets out there. I support a lot them still, along with Ice Cream Sandwich and Jelly Bean. Get this there are still tablet owners on Donut still. Froyo and Honeycomb (tablet only) these two OS didn't really make heads spin. Eclair was very popular.